20
Feb
2015
Comments Off

on A Natural-Looking Smile With Cosmetic Dentistry
A Natural-Looking Smile With Cosmetic Dentistry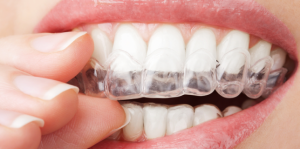 In North America, we are constantly surrounded by images of incredibly good-looking men and women who all have one thing in common: they have a smile which radiates youth, health and happiness.
As sophisticated and informed consumers, we also know that what we see in pictures of photo shoots is often the product of hours in "hair and makeup", or of retouching with computer software. Unfortunately, a great looking smile is something one cannot achieve in a few hours behind a make-up counter!
But luckily for us, we all can achieve a great smile in a few hours at the dentist thanks to evolutions in cosmetic dentistry.
It so important to feel good about ourselves, inside and out, since our smile can be seen as a true reflection of our state-of-mind. Fortunately, a great smile is something that is now accessible to all of us, and not just for Hollywood movie stars or royalty.
Indeed, more and more consumers are looking at cosmetic dentistry as a way to permanently enhance the look of their smile. Yet, there is a significant portion the population who are very interested in receiving cosmetic dentistry treatment, but who are afraid the results won't appear natural.
Luckily, there are dentists whose cabinet specializes in cosmetic dentistry and whose services, such as Invisalign clear braces or porcelain veneers, have been proven to provide the results patients, like you and me, have longed for, for many years.
Furthermore, forward-thinking dentists now offer the newest invention in terms of cosmetic dentistry: a technology called Dental GPS, which was invented in Canada and is now known world-wise as a revolutionary method to give a perfect, natural-looking smile to each individual.
If you have been wishing to improve the look of your smile but have been hesitant to take the plunge, then the Dental GPS is a technology invented with you in mind, as it allows you to see exactly what you will resemble after the procedure —even before it has started!
When a clinic offering Dental GPS technology also offers free consultations, there is really nothing to lose and everything to gain.
If you made a resolution this year to treat yourself more often, don't pass on this opportunity: you'll be glad you did… and will smile more often as a result!