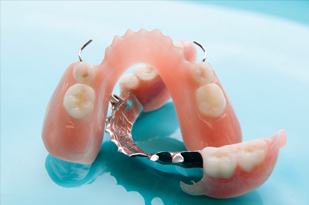 Conventional partial dentures
Hygienic partial denture with no palate
Finally, a partial denture you forget you're even wearing!
Before you get seduced, verify that the hygienic bar suits you. We can only create this true little dental jewelry in 40% of cases!
The PRA bar was created in the Montreal dental laboratory "Laboratoire Dentaire MALO". Still today, few technicians attempt this very complicated fabrication. The process is simple but long and hard: use teeth's inside shape to firmly maintain the denture in its place with no bearing on the palate or gum. Since this denture keeps the palate completely clear, you will rediscover all taste sensations, textures and food's temperature. The gum regains its natural stimulation, all for its greater wellbeing!
PRECISION-type implantation is performed to give patients perfect control while chewing.
Note: Due to the complexity of the structure, its fabrication requires more time.
Learn about the timeframes.
Partial acrylic denture
Used most often as transition prosthesis, the acrylic partial denture is above all an economic decision.
As acrylic is more fragile than metal, it needs to be thicker and cover a larger portion of the palate. This type of denture is not recommended for lower partials.
Partial denture with precision attachments without clasps
For an upper or lower partial that holds better without visible clasps. Your dentist adds unobtrusive attachments to in-mouth crowns, onto which partials can firmly grip to.
Partial ultaire denture
Looking for a alternative for a metal partial ? The ultaire partial denture is maybe a good option for you! Call us too book an appointment to find out which option is better for you.
https://www.dentistryiq.com/practice-management/industry/article/16366820/solvay-dental-360-introduces-ultaire-akp-a-highperformance-polymer-for-removable-partial-denture-frames-at-ada-meeting
https://dpsdental.com/product-and-services/ultaire-akp-partials/
http://www.dentalartslab.com/products-services/removable-partial-dentures/ultaire-akp-partials/
https://www.dentalproductsreport.com/view/solvay-dental-360-introduces-ultaire-akp
Partial dentures – Options