29
Aug
2014
Comments Off

on The Benefits Of Implant Supported Dentures
The Benefits Of Implant Supported Dentures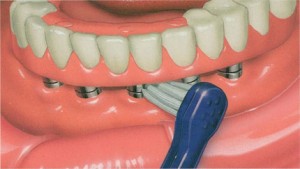 There are several possible reasons for tooth loss including, but not limited to:
– Trauma
– Periodontal (Gum) Disease
– Congenital Absence
Losing your teeth can have negative effects in terms of both aesthetics and functionality. Aesthetically, aside from gaps, losing teeth can also change the shape of your jawbone and lips, often adding age to a person's appearance. However, losing teeth can also cause serious problems in regards to eating, speech, and impact your overall health.
If you've lost all, or many of your teeth, speaking to a denturist about implant supported dentures is one of your best options to help avoid many of the problems associated with tooth loss. If you're unfamiliar with the term, implant supported dentures are specially fitted dentures, that attach to abutments which have been surgically inserted into your gums. The process is very similar to a dental implant, however implant supported dentures require more abutments.
Although it may sound like a more difficult procedure than simply having a denturist create removable dentures for you, here are some of the reasons to consider implant supported dentures:
1. Stabilization: Regardless of how well a denturist designs a set of dentures, they can often be difficult to keep in place. Loose dentures, that slip or fall out can cause embarrassment, discomfort and can impede your speech and chewing abilities. Implant supported dentures are secured to your mouth so there is no worry about loose dentures or buying denture adhesives ever again!
2. Aesthetics: Implant supported dentures can help prevent the aforementioned change in bone structure. As the abutments are inserted into the gums and jawbone, they help mimic the function of root structures, which will help prevent the gums and jawbone from collapsing.
3. Functionality: Implant supported dentures can improve chewing, so you don't have to put a limit on your diet or affect your nutritional intake.
4. Comfort: As implant supported dentures are affixed to your gums and do not rely on your palate, they can prevent discomfort and damage. Because they are supported by implant structures, they also reduce the amount of harm and damage to your gums.
5. Maintenance: Often times implant supported dentures can be removed for easy cleaning.
Although losing your teeth can be an embarrassing and uncomfortable situation, implant supported dentures offer a more permanent and natural-looking to alternative to regular dentures. To find out more, contact a denturist or dentist today.