For a comfortable prostheses and a natural looking smile.
---
Dental Prosthesis Clinic
Pascale Henri, denturist with 14 years of experience, is happy to welcome you in her new clinic now located in the heart of Aylmer, Gatineau.
Choosing Pascale Henri's "Clinique Prothèse Dentaire" is choosing a welcoming approach, personalized service, and a friendly and efficient team that pride themselves on the advanced technology and the clinics cleanliness.
The fabrication of a denture is an art that requires patience, precision and competence. In this profession, the denturist is without exception the artist of your smile who will fabricate a personalized prosthesis perfectly adapted to your mouth and the shape of your face. They are health professionals recognized for the fabrication, installation and adjustments of removable dental prostheses (partials, immediate, conventional or even implant-supported prostheses.)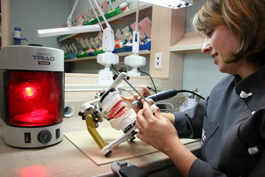 ---
Our Offered Services