Denture services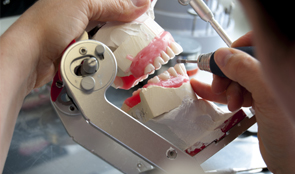 Ms. Henri was co-owner of the centre de denturologie de St-Brunode- Montarville for 10 years before moving to Gatineau and acquiring the clinic belonging to Claude Lefebvre, dd in 2012. Offering the same great service and high quality dentures at competitive prices as M. Lefebvre, Ms. Henri also suggests precision and implant supported dentures.
The hallmarks of her practice are attention to detail, the highest quality materials and teeth, personalized esthetics and excellent customer service. Ms. Henri is passionate about providing her patients with the most natural looking and technologically advanced dental prostheses.
We welcome new patients. Our flexible schedule allows us to see you at your earliest convenience. The clinic is opened 5 days a week with the possibility of evening appointments. Because hygiene is important to us, all of our instruments are sterilized and our rooms disinfected with care between each patient. All files have been transferred to the new location where M. Lefebvre's patients, can count on an excellent service.
For all your needs with respect to:
Conventional prostheses
Implant supported dentures
Precision prostheses
Partial prostheses
---
Our Offered Services